The new Kawai CA99 Digital Hybrid Piano impresses with its ability to reproduce the phenomenal concert experience at home. A redesign of its highly acclaimed predecessor, the CA98 digital piano, the CA99 Digital Hybrid offers an improved TwinDrive speaker system and an upgraded SK-EX sound engine. These additions result in better multi-channel piano sampling, resonance modeling, and pedaling systems, giving players the most acoustically organic, authentic piano experience.
The CA99 is beautifully housed in a contemporary cabinet with a soft fallboard system. The new Grand Feel III keyboard allows for a more responsive and consistent playing experience. Grade counter-weighted wooden keys replicate the touch of an acoustic piano.
With recording and playback capabilities, the CA99 is perfect for students and professionals who wish to review their playing. The built-in headphone jack is great for players who wish to practice privately or quietly. Metronome features included, as well as programmed lesson books and songs. These range from beginner/adult beginner to etudes for more advanced players.
Because of the improved user-friendly interface, the intuitive LCD touchscreen is easy to navigate. Players can access remote control features through an app available for Android and iOS phones. Newly registered sounds include authentic electric piano, organ, harpsichord, stings, and bass. Matching bench and power cable included.
Dimensions: 57″(W) x 18.5″(D) x 40″(H)/1445(W) x 470(D) x 1010(H)mm
HIGHLIGHTS
NEW: Grand Feel III wooden key keyboard action with Ivory & Ebony Touch key surfaces
IMPROVED: SK-EX Rendering sound engine with multi-channel piano sampling
IMPROVED: Virtual Technician function with 22 adjustable parameters
IMPROVED: TwinDrive Soundboard Speaker system with new 360° speaker diffuser panels
IMPROVED: Integrated Bluetooth® MIDI and audio connectivity, with aptX support
NEW: Updated LCD touchscreen UI with sister Piano Remote control app for iOS/Android
NEW: Stunning contemporary upright piano cabinet design with Soft Fall fallboard system
NEW: Authentic new electric piano, organ, harpsichord, strings, and bass sounds
FEATURES
THE TOUCH OF A GRAND PIANO: GRAND FEEL III WOODEN KEY ACTION
Embracing many of the long-established principles associated with an acoustic piano, the Grand Feel III keyboard action utilized by the CA99 combines realistic materials, motion, and mechanism to recreate the exceptional touch of the finest concert grand pianos.
All eighty-eight black and white keys are crafted entirely from long pieces of wood, with finely textured ivory and ebony-like surfaces applied to absorb moisture and assist control. Each wooden key pivots smoothly on a balance pin – the ends rising and falling to replicate the familiar 'seesaw' motion of an acoustic piano action. When pressed, the back of the key lifts, triggering a grade-weighted hammer to strike a pressure switch. The amount of force applied to this switch is then measured, and the corresponding note played with authentic tonal character and volume.
THE SOUND OF A GRAND PIANO: SHIGERU KAWAI SK-EX CONCERT GRAND
In order to faithfully reproduce the stunning sound of a Shigeru Kawai concert grand piano digitally, Kawai has developed SK-EX Rendering. This special, piano-only sound engine focuses the Concert Artist's DSP power, combining multi-channel, 88-key sampling with the latest resonance modeling technology to deliver pure acoustic piano authenticity. When SK-EX Rendering is selected, players can choose ten differently prepared piano characters ranging from Classic and Romantic, to Jazz, and even Boogie.
VIRTUAL TECHNICIAN – PERSONALIZED PIANO ADJUSTMENTS
The knowledge and skill of an experienced piano technician are essential to bringing out the best of a fine acoustic piano. In addition to tuning each note, the technician also performs numerous regulation and voicing adjustments that allow the instrument to truly sing.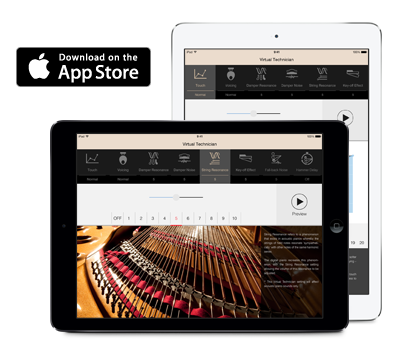 The CA99's powerful Virtual Technician function simulates these refinements digitally, allowing discerning musicians to shape aspects of the selected piano's character to suit their personal preferences.
Perform touch weight and voicing adjustments, regulate hammer and key release noises, and fine-tune string, damper, and cabinet resonances. It is even possible to adjust the precise tuning, volume, and character of individual notes – all in real-time.
PREMIUM AUDIO TECHNOLOGIES
TWINDRIVE SOUNDBOARD SPEAKER SYSTEM
Complementing the premium-quality drivers, the CA99 also incorporates the latest version of Kawai's highly-regarded soundboard speaker system. This unique audio technology embraces the rich, harmonic qualities of wood by using transducers to channel sound energy onto a large soundboard, in order to produce a more natural, organic tone. Long wooden ribs securely attached to the soundboard further broaden the frequency range and volume of the resonating sound, resulting in a remarkably authentic playing experience that immerses the performer, and faithfully reproduces the tonal ambiance of an acoustic piano.
The TwinDrive system represents the third generation of Kawai's soundboard technology, and features an improved primary transducer redesigned to deliver more power and volume.
In addition, a secondary transducer, mounted towards the treble end of the instrument, helps to further expand the tonal range produced by the soundboard beyond the existing low frequencies, allowing mid-low and even mid-high ranges to also benefit from the warming, acoustic properties of wood.
THE VARIETY OF A DIGITAL PIANO: CONVENIENCE & FLEXIBILITY
Complementing the instrument's class-leading Grand Feel III keyboard action and stunning SK-EX Rendering piano sound engine, the CA99 also offers a strong selection of digital features that further enhance one's musical enjoyment.
Full Bluetooth® connectivity and USB audio record/playback allow musicians to extend the functionality of their piano, or play along with their favorite artists, while the convenient metronome and integrated lesson functions, featuring classical etudes and Alfred course books, ensure that regular practice is both productive and engaging for aspiring pianists.
All functions are accessible from the CA99's 5″ touchscreen display, which allows sounds and settings to be selected from an attractive user interface simply by tapping or swiping the display with a finger.
The screen can also be set to turn off automatically while playing, thus preserving the instruments' acoustic piano-like appearance, and minimizing any visual distractions to the performer.
INTEGRATED BLUETOOTH® CONNECTIVITY
In addition to standard USB and MIDI jacks for connecting to computers or other instruments, the CA99 also features integrated Bluetooth® MIDI and Audio technologies that allow the instrument to communicate with supported smart devices wirelessly.
Once paired with a phone, tablet, or laptop, Concert Artist owners can enjoy a wide variety of exciting music-related apps that enhance their learning and playing experience, or stream audio from songs and videos directly through the instruments' premium amplifier and speaker systems without the need to connect additional cables.
The CA99's redesigned communication standard allows the user-friendly touchscreen interface to also be accessed via the dedicated PianoRemote app for iOS and supported Android devices. The app connects to the piano wirelessly via the Concert Artists' integrated Bluetooth, providing an effortless way to change sounds, or enjoy the vast array of built-in music content from the comfort of an armchair.
BUILT-IN LESSON & FINGER EXERCISES
The CA99's convenient lesson function allows aspiring pianists to learn piano with classical Czerny, Burgmüller, Beyer, Bach, Beethoven, and Chopin etudes, or a collection of songs from the popular Alfred's Basic, Adult, and Premier course books.
With a strong emphasis on acoustic piano realism, the Concert Artist also features traditional finger exercises, scales, and warm-up drills, and includes companion books for all classical scores to further aid one's piano development.
Moreover, it is also possible to adjust the half-pedal sensitivity of the damper pedal, and the effectiveness of the soft pedal using dedicated Virtual Technician parameters, allowing experienced pianists to personalize the instrument's response to match their individual pedaling technique.
SUPERIOR HEADPHONE EXPERIENCE
The CA99's Spatial Headphone Sound (SHS) technology enhances the depth and realism of the instrument's sound when listening through headphones or earphones. The player can select one of three different acoustic presets that adjust the spatial positioning of the sound, while also helping to reduce auditory fatigue when using earphones or headphones for extended periods of time.
In addition, the CA99 also allows players to specify the type of headphones connected (Open, Semi-open, Closed, In-Ear, Canal, etc.) to ensure an optimal listening experience.
SPECIFICATIONS
Keyboard
Grand Feel III (GFIII) action

– 88 wooden keys
– Grade-weighted hammers
– Ivory Touch white key surfaces
– Ebony Touch black key surfaces
– Let-off simulation
– Triple sensor key detection
– 88-key Graded counterweights

Pedal
Grand Feel Pedal System

– Damper (with half-pedal support)
– Soft
– Sostenuto

Piano Sound
Pianist mode: SK-EX Rendering

– 88-key multi-channel sampling
– SK-EX recording

Sound mode: Harmonic Imaging XL (HI-XL)

– 88-key stereo sampling
– SK-EX, SK-5, EX recording

256 note maximum polyphony

Piano Resonance
Pianist mode: Resonance Modeling

– Damper Resonance
– String Resonance
– Undamped String Resonance
– Aliquot Resonance

Sound mode: Acoustic Rendering

– Damper Resonance
– String Resonance
– Undamped String Resonance
– Cabinet Resonance

No. of Sounds
SK-EX Rendering: 10 rendering characters
Harmonic Imaging: 90 sounds
Reverb
Pianist mode: Ambience (10 types)
Sound mode: Reverb (6 types)
Brilliance
✔
Other Effects
24 types
Speakers
Soundboard Speaker System
8 cm x 4 (top speakers with diffuser)
2 cm X 2 (dome tweeters)
Output Power
135 W (54 W x 3)
Headphone Enhancements
Discrete SpectraModule™ headphone amplifier
Spatial Headphone Sound
Headphone Type
Headphone Amplifier
Display
5″ LCD touchscreen (480 x 800 pixels)
Key Cover
Upright piano type (with Soft Fall system)
Music Rest
Upright piano type (fixed position)
Dimensions
Width
57 1/3″ (145.5 cm)
Depth
18" (45.5 cm)
Height
36 1/2" (92.5 cm) (not including music rest)
Weight
167 lbs (76 kg)
Basic Functions
Dual
Split
Four Hands
Transpose
Tuning
Favorite
Internal Songs
Demo Songs
39 songs
Music
205 or 218 songs (Depending on market)
Lesson Songs
Burgmüller 25 (25 Etudes Faciles, Opus 100)
Czerny 30 (Etudes de Mécanisme, Opus 849)
Czerny 100 (Hundert Übungsstücke, Opus 139)
Beyer 106 (Vorschule im Klavierspiel, Opus 101)
J.S. Bach: Inventionen
Sonatinen Album 1
Chopin Walzer (Chopin waltzes series)
Chopin Etudes (Opus 10)
Alfred's Premier Piano Course Lesson 1A
Alfred's Premier Piano Course Lesson 1B
Alfred's Basic Piano Library Lesson Book Level 1A
Alfred's Basic Piano Library Lesson Book Level 1B
Alfred's Basic Adult Piano Course Lesson Book Level 1
Internal Recorder
10 song, 2 track recorder
Approximately 90,000 note memory capacity
Metronome
Time Signatures
1/4, 2/4, 3/4, 4/4, 5/4, 3/8, 6/8, 7/8, 9/8, 12/8
Drum Rhythms
100 patterns
Bluetooth® *
Bluetooth® MIDI
Bluetooth MIDI Device Name
Bluetooth Audio
Bluetooth Audio Volume
USB Audio Recorder
Record
MP3
WAV
Save as SMF/KSO
Playback
MP3
WAV
SMF
KSO
Other Functions
Overdubbing
Line In recording
Bluetooth Audio Recording
App Functions
–
Connector Jacks
Headphone
1 x 1/4″, 1 x 1/8″ Stereo jacks
MIDI
MIDI IN, MIDI OUT, Bluetooth® MIDI
Line Out
1/4″ L/MONO, R [unbalanced]
Line In
1/8″ Stereo
USB to Host
✔
USB to Device
✔
Others
USB for Update
Power Consumption
55 W
Power
Power cable
Bench
Matching Bench
Others
Warranty Card
Owner's Manual
Internal Song List