Kawai CN29 Digital Piano
The award-winning Kawai CN Series Digital Pianos embodies over 90 years of piano building heritage. Working alongside Onkyo, the surveyor of audio electronics, Kawai produces a new motherboard and speaker system for the CN29 and CN39. The CN Series includes six different reverb simulations, allowing pianists the flexibility to position themselves within different acoustic environments.
The Responsive Hammer III keyboard action supports players with a consistent playing experience. Triple sensor detection registers repeated notes with precision, excellent for playing rapid, soft trills. The durable reinforced action ensures stability when played with force, while the Ivory touch key surfaces aid in finger control with its matte finish. The 88-keys counterweight gives the CN Series a realistic piano touch.
The Kawai CN29 Digital Piano uses the progressive Harmonic Imaging sound engine. This allows the CN29 to emulate the incredible piano tones of the famed Shigeru Kawai SK-EX and Kawai EX grand pianos. The two output system performs with exceptional clarity without distortion. The Grand Pedal system of the CN29 supports the three-pedal functions: Damper, Soft, and Sostenuto. All these improvements give the CN39 a realistic acoustic piano tone.
The CN29 showcases versatility through its digital functions. The CN29 has all of the Kawai standards, such as USB capabilities, SHS headphone settings, and wireless Bluetooth MIDI. The SHS headphone jack is great for those who wish to practice privately or quietly. Programmed lesson books and songs range from Alfred books for beginner/adult beginner to Chopin Waltzes for advanced players. Metronome features included, with nineteen authentic instrument sounds. All functions are accessible through the OLED display tucked neatly into the left side panel.
With extraordinary sound quality and engaging digital functions, the CN29 exceeds all expectations. Matching bench and power cable included.
Dimensions: 53 1/2″(W) x 16″(D) x 34″(H)/136(W) x 40.5(D) x 86(H)mm
HIGHLIGHTS
NEW: Motherboard developed in partnership with Onkyo for improved tonal clarity
NEW: Speaker system developed by Onkyo, delivering superior sound
NEW: Updated control panel layout with modern OLED graphic display
Progressive Harmonic Imaging Sound Technology w/88-Note piano sampling
Class-leading Responsive Hammer III keyboard action
Ivory touch key surfaces, let-off, triple sensor, counterweights
19 exceptional instrument sounds
Bluetooth® MIDI
Built-in classical etudes, Chopin waltzes and Alfred lessons books
Grand Feel Pedal System
Modernized key cover appearance
Premium rosewood finish
The CN29 offers a highly detailed acoustic portrait, employing Kawai's proprietary Progressive Harmonic Imaging sampling technology to ensure smooth tonal transitions across the keyboard and throughout the entire dynamic range.
The impressive CN29 features our highly-regarded Ivory Touch key surfaces This finely-textured material gently absorbs fingertip perspiration and oils to avoid slipping and provide greater playing control. Moisture is absorbed without dirt or grease permeating the key surfaces, allowing them to be easily wiped clean with a damp cloth.
The recorder on the CN29 allows up to three songs to be stored in internal memory and played back at the touch of a button. These recordings can serve as convenient self-assessment tools for players of all skill levels.
In addition to standard USB and MIDI ports, the new CN Series also boast integrated Bluetooth MIDI technology, allowing the digital piano to communicate with supported smart devices wirelessly.
This exclusive feature lets anyone enjoy the thrill of playing the piano, even if you've never played before.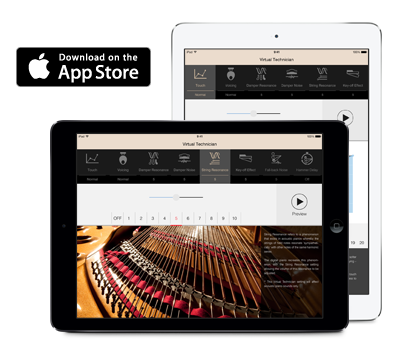 A skilled piano technician can personalize an acoustic piano's sound and touch response. Kawai's exclusive Virtual Technician app does the same for the CN29 digital piano.
As with a grand piano, the viewing angle of the CN29 music rest can be adjusted to suit the performer's playing position or laid flat to provide a level surface for notating scores.
SPECIFICATIONS
Keyboard
Responsive Hammer III (RHIII) action

– 88 keys
– Grade-weighted hammers
– Ivory Touch white key surfaces
– Let-off simulation
– Triple sensor key detection
– Counterweights

Pedal
Grand Feel Pedal System

– Sustain (with half-pedal support)
– Soft
– Sostenuto

Piano Sound
Progressive Harmonic Imaging (PHI)

– 88-key stereo sampling
– SK-EX, EX grand recordings
– 192 note maximum polyphony

Piano Resonance
– Damper Resonance
– String Resonance
Piano Adjustment
Virtual Technician (17 parameters, via Virtual Technician app)

– Touch Curve
– Voicing
– Damper Resonance
– Damper Noise
– String Resonance
– Key-off Effect
– Fall-back Noise
– Hammer Delay
– Topboard
– Decay Time
– Minimum Touch
– Stretch Tuning
– Temperament
– Temperament Key
– User Key Volume
– Half-Pedal Adjust
– Soft Pedal Depth

・Virtual Technician Smart Mode (10 presets)

No. of Sounds
19 voices
Reverb
6 types
Brilliance
✔
Other Effects
–
Speakers
12 cm x 2
Output Power
40 W (20 W x 2)
Headphone Enhancements
Spatial Headphone Sound
Headphone Type
Display
128 x 128 pixel OLED
Key Cover
Sliding type
Music Rest
Collapsible type (3 angle adjustability)
Dimensions
Width
53 1/2″ (136 cm)
Depth
16″ (40.5 cm)
Height
34″ (86 cm) (not including music rest)
Weight
95 lbs (43 kg)
Available Finishes
Premium Satin Black (CN29B)
Premium Rosewood (CN29R)
Snow White (CN29W)
Basic Functions
Dual
Four Hands
Transpose
Tuning
Startup Settings
Internal Songs
Sound Demo
19 songs
Piano Music
Concert Magic
40 songs
Lesson Songs
Burgmüller 25 (25 Etudes Faciles, Opus 100)
Czerny 30 (Etudes de Mécanisme, Opus 849)
Beyer 106 (Vorschule im Klavierspiel, Opus 101)
Alfred's Basic Piano Library Lesson Book Level 1A
Alfred's Basic Piano Library Lesson Book Level 1B
Chopin Walzer (1-19) lesson book
Internal Recorder
Total Memory
approximately 10,000 notes
No. of Songs
3 songs
Parts
1 part
Metronome
Time Signatures
1/4, 2/4, 3/4, 4/4, 5/4, 3/8, 6/8
Drum Rhythms
–
Bluetooth® *
Bluetooth® (Ver. 4.1; GATT compatible)
Bluetooth® Low Energy MIDI Specification compliant
USB Audio Recorder
Record/Playback
–
Other Functions
–
App Functions
Virtual Technician app (iPad), Sound Museum app (iPhone/iPad)
Connector Jacks
Headphone
1 x 1/4″, 1 x 1/8″ Stereo jacks
MIDI
MIDI IN, MIDI OUT, Bluetooth® MIDI *
Line Out
–
Line In
–
USB to Host
✔
USB to Device
–
Others
–
Power Consumption
12 W
Power
Power cable
AC adaptor
Bench
Matching Bench
Headphones
Headphone hook
Sheet Music
–
Others
Warranty Card *
Owner's Manual